Opera News Online Jan 30,2011
Conductor Lucy Arner, making her FGO debut, scored a well-deserved success. The orchestra sounded wonderful, and she traversed the tricky patchwork of moods and meters that make up Hoffman with apparent ease and abundant style
Ft. Lauderdale Sun-Sentinel, Jan. 24, 2011
...a performance marked by fine singing and another superb outing by the orchestra, this time under conductor Lucy Arner
ClevelandClassical.com, February 15, 2010



​
Guest music director Lucy Arner (a B-W alumna) and guest stage director Beth Greenberg have left their professional fingerprints all over a laudable production of Our Town, an opera by Ned Rorem...Ms. Arner kept the musical proceedings well under her thumb from start to finish. Cast and orchestra were finely coordinated and balances were well maintained. The supporting cast of minor characters and townspeople were expertly dispatched and sounded lovely in choral and ensemble passages.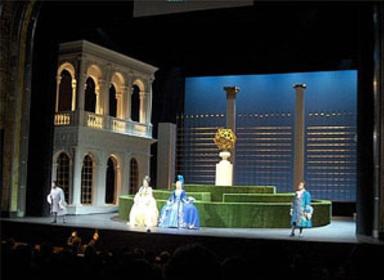 Canterbury Star, October 19, 2005 (New Zealand)

…the tension moves the story along, with that wonderful dark and dramatic score beautifully brought to life by conductor Lucy Arner and the Christchurch Symphony. (Pagliacci)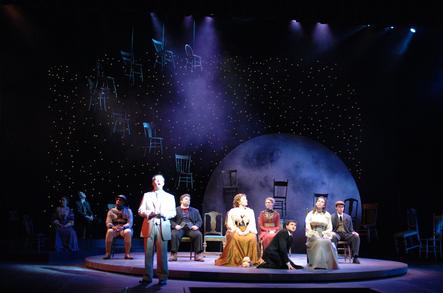 El Nuevo Herald, Feb. 9, 2011 (Miami)


Bajo la batuta de Lucy Arner, Offenbach tuvo una defensora sensible y experta. La directora mantuvo la música en el adecuado nivel de firme presencia sin llegar nunca a opacar a los cantantes, balance que no siempre se logra.

Under the baton of Lucy Arner, Offenbach had a sensitive and expert defender. The conductor maintained the music at the adequate level of firm presence without ever covering the singers, a balance that is not always achieved.

Canto Lirico, Octubre 29, 2006 (Mexico City)

​

​

Notable el gran cuarteto del final del segundo acto como uno de los grandes logros de la función bajo la batuta de la directora cubana, Lucy Arner al frente de la Orquesta y Coro del Teatro de Bellas Artes.

...The great quartet at the end of Act 2 was worthy of note as one of the highlights of the evening, led by Cuban conductor Lucy Arner with the orchestra and chorus of Bellas Artes. ​Die Entführung aus den Serail

Opera October 2016
Met stalwart Lucine Amara cheerfully greeted the audience of April 17's La Gioconda by introducing Verismo Opera's new music director, Lucy Arner. A former Met assistant conductor with extensive experience, Arner succeeded - despite minimal rehearsal, in giving coherent architecture and pace to this very difficult undertaking, boding well for an organization devoted to "red sauce Italian" works. The level of instrumental playing was commendably high. Arner ensured that Ponchielli's patchy but (in places) highly effective score breathed the proper style.

South Florida Classical Review, Jan. 23, 2011
A bright spot throughout the performance was the excellent work of the orchestra, with conductor Arner conveying both the tripping, energetic sections of Offenbach's score, as well as its ominous moments, as with the accompaniment to Dr. Miracle's evil musings on Antonia's health.

The OperaCritic.com, October, 2005 (New Zealand)

…Lucy Arner and the Christchurch Symphony Orchestra were on top form caressing Puccini's pungent, bittersweet score with dramatic intensity that drew us into the work in a reading that was full of sensitivity and passion. (Suor Angelica).
Houston Chronicle, April 6, 2009
Conductor Lucy Arner draws an accomplished performance from the student orchestra, and the extensive choral work is likewise strong and often thrilling. The Grapes of Wrath
Naples Daily News, April 8, 2008 (Naples, FL)

...What a superb aesthetic experience! The incredible music of Mozart, the world-class professionalism of the singers, the stunning set, the enthusiastic orchestra conducted by Maestra Lucy Arner (borrowed from the Met) - all combining in perfect proportion to produce an unparalleled evening of opera. Cosí fan tutte
Cleveland Plain Dealer, February 12, 2010 (Berea, OH)

​
Baldwin-Wallace Conservatory, presenting Our Town in its Ohio premiere, has devised a production that honors Rorem, Wilder and [librettist] McClatchy and fields a cast that radiates musical and dramatic truth...Lucy Arner led members of the B-W Symphony Orchestra in an animated and graceful account of Rorem's score.


Opera Today, Feb. 6, 2011
In another company debut, Conductor Lucy Arner seemed at home in the French Romantic repertoire. Arner's keen sense of tempi and firm hand made rhythmic timing with singers — one of Hoffmann's musical moguls — look easy. The type of delicate instrumental playing elicited for Nicklausse's short solo in Antonia's Act reminded that the conductor has extensive experience in chamber music.Type your paragraph here.
Parterre Box April 21, 2016
...the orchestra was rugged but not ragged: kudos to conductor Lucy Arner! It was Gioconda, all of it, sung and played with style and vigor
Gay City News, March 6, 2009 (Houston)


Daniel Catán's Florencia en el Amazonas proved impressive with Arner inspiring her team in the pit and onstage [February 2].

Miami Herald, Jan. 23, 2011 CONDUCTOR EXCELS
Conductor Lucy Arner, making her FGO debut, excelled at following her singers and keeping the action moving, which was particularly important in a show that can easily stall in opera-comique shenanigans.